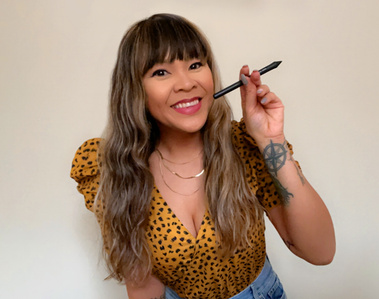 Hazel Ravago (Haize Rava) is a talented creative artist; graphic designer, product photographer, photo retoucher, senior manager lead with 15+ years experience, who is highly motivated, passionate, and versatile. Especially skilled in creating and directing corporate and new business design direction. Managing day-to-day planning, implementation and problem-solving to ensure daily goals in post production. Her work specializes in high-end fashion and editorial imagery. In the most recent years, she has focused more on leadership, building and managing high performing post production teams within the Fashion and Tech Fitness Industries.
Hazel attended Pratt in Brooklyn, NY and received a Bachelor's degree in Communication Design. She also has an Associate's degree in Graphic Design and a Certificate in Photography from BCC. For the past two years she has worked at Peloton Interactive, as their Senior Managing Retoucher, where she built and managed a team of 15 + retouchers and post producers. Prior to Peloton Interactive, Hazel was the US Retouch Manager for one of the largest fashion retail companies, Yoox Net-A-Porter, where she managed a team of 30 + retouchers. Hazel's work has been featured in international publications and media.
For more information on Hazel's work, to get in touch regarding employment opportunities, or to just say hello, feel free to get in touch. Full resume and Before & After images upon request.
Please note personal retouch was retouched by Hazel and managed retouch was only managed by Hazel (not retouched).